The Way of the World (2018)
Folger Theatre performed their production of William Congreve's The Way of the World, adapted and directed by Theresa Rebeck, from January 9 to February 11, 2018.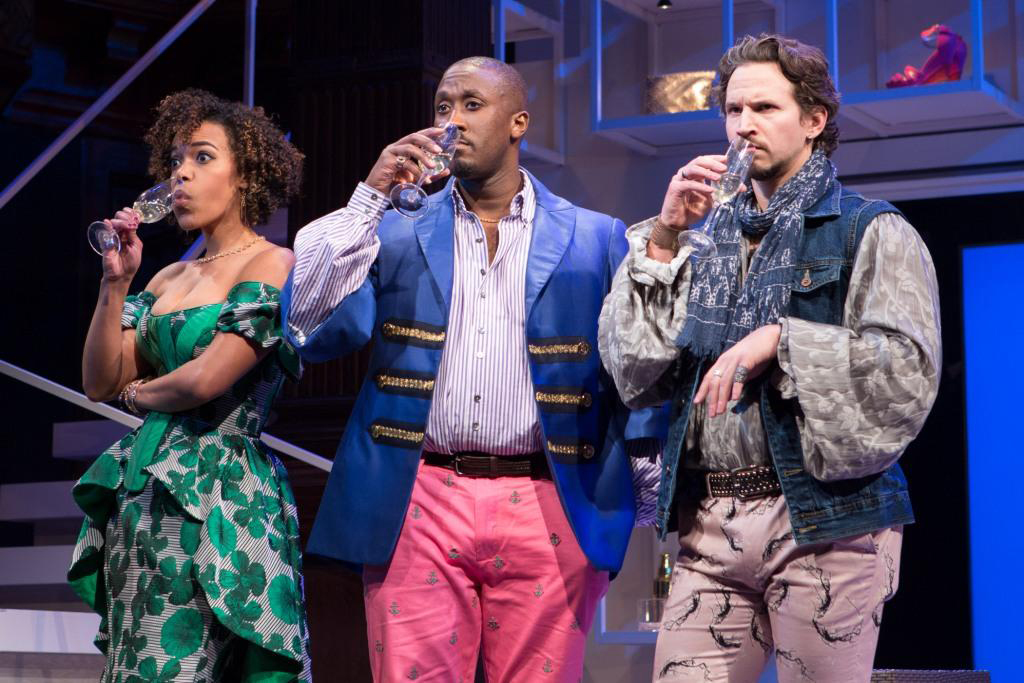 Mae is an altruistic woman with just a little baggage—a $600 million inheritance. When her philandering boyfriend, Henry, seduces her aunt, both women become the object of scandal.Henry has a plan to win the heiress back.In the lush and opulent land of the Hamptons, where money and status determine everything, can love conquer all? Freely adapted from Congreve's classic play, The Way of the World at Folger Theatre is a sparklingly witty physical comedy illuminating the foibles of the upper-class.
Production
Entertainment unions represented in Folger Theatre productions include The Stage Directors and Choreographers Society (**), United Scenic Artists (***), and the Actors' Equity Association (*), which includes members of the Union of Professional Actors and Stage Managers.
Cast
Erica Dorfler*: Katrina
Brandon Espinoza*: Charles
Eliza Huberth*: Mae
Ashley Austin Morris*: Waitress
Kristine Nielson*: Rene
Daniel Morgan Shelley*: Lyle
Luigi Sottile*: Henry
Elan Zafir*: Reg
Understudies
Jennifer Hopkins: Rene
Rachael Montgomery: Katrina, Waitress
Stephen Russell Murray: Charles, Lyle
Keanu Ross-Cabrera: Reg, Henry
Kathryn Zoerb: Mae
Creative team
Theresa Rebeck**: Playwright, Director
Linda Cho***: Costume Design
Don Holder***: Lighting Design
MuTTT Dogg***: Sound Design
Michele Osherow: Resident Dramaturg
Daryl Eisenberg: CSA, New York Casting
Carolynn Richer*: Production Stage Manager
Jessica Short*: Assistant Stage Manager
Production team
Teresa Wood: Casting Assistant
Katharine Pitt: Assitant Director
Linda Lombardi: Assistant to the Director
Christina Miller: Production Assistant
Tony Koehler: Props Master
Ann Beyersdorfer: Assistant Scenic Designer
Bella Faccia: Inc., Scenic Construction
Cidney Forkpah: Wardrobe Head
Mariah Hale, Ansaldo Costumes, Adalia Tonneyck: Costume Construction
Christopher Annas-Lee: Assistant Lighting Designer
Alex Keen: Master Electrician
Amanda Kircher: Assistant Master Electrician
Jon Farber and Sasha Pensanti: Assistants for Daryl Eisenberg Casting
WiT Media: Advertising Agency
Teresa Wood: Production Photography
Brittany Diliberto: Pre-Production Photography
Lee Fanning, Mark Fastoso, and APTV: Promotional Video
WAPAVA: Archival Video
C2: Open Captioning
Folger Theatre
Janet Alexander Griffin: Artistic Producer
Beth Emelson: Associate Artistic Producer
David Polk: General Manager
Charles Flye: Theatre Production Manager
Rebekah Sheffer: Assistant Technical Director
Grace Ann Roberts: Humanities Programs Assistant
Other media
Watch the trailer for this production of The Way of the World."
https://www.youtube.com/watch?v=biOOTaeuDdQ
Reviews
Image gallery