William Shakespeare's Long Lost First Play (abridged)
Folger Theatre produced the Reduced Shakespeare's Company's performance of William Shakespeare's Long Lost First Play (abridged) from April 21 to May 8, 2016.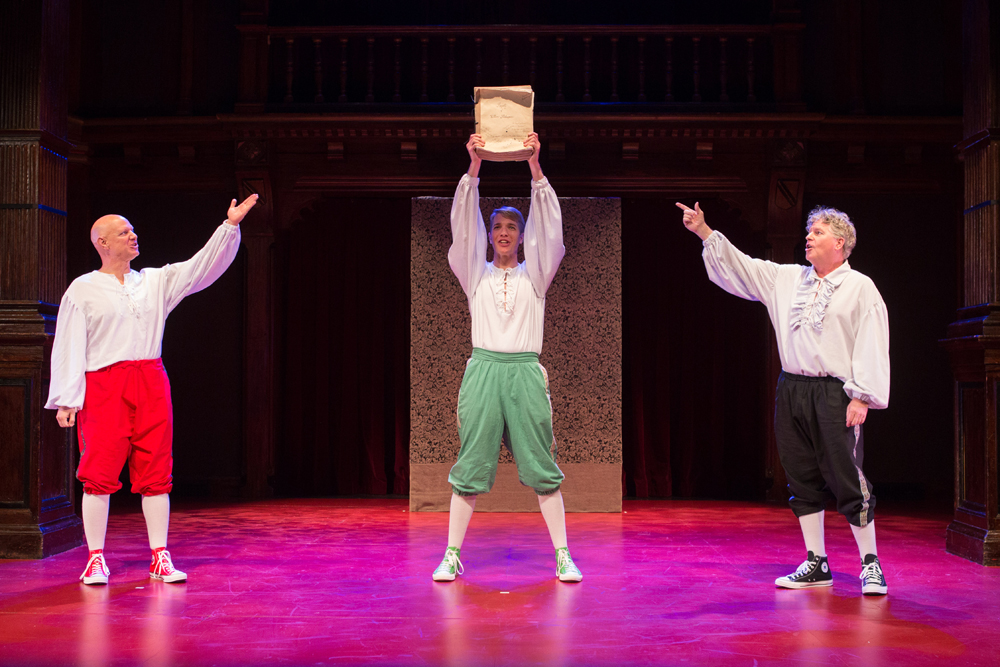 The wonderfully inventive and wildly hilarious Reduced Shakespeare Company® returns to Folger Theatre in this eagerly anticipated World Premiere. Discovered in a treasure-filled parking lot in Leicester, England, an ancient manuscript proves to be the long-lost first play by none other than the young William Shakespeare from Stratford. Using questionable scholarship and street-performer smarts, the trio of comic actors throw themselves into a fast, funny, and frenzied festival of physical finesse, witty wordplay, and plentiful (pitiful) punning. William Shakespeare's Long Lost First Play (abridged) is written and directed by two of the world's most famous Shakespearean comedians, Austin Tichenor and Reed Martin, stars of the PBS film The Complete Works of William Shakespeare (abridged), and authors of The Bible: The Complete Word of God (abridged) (Helen Hayes Award nominee for Best New Play) and the definitive, irreverent reference book Reduced Shakespeare: The Complete Guide for the Attention-Impaired (abridged) (published by Hyperion).
Production
Entertainment unions represented in Folger Theatre productions include The Stage Directors and Choreographers Society (**), United Scenic Artists (***), and the Actors' Equity Association (*), which includes members of the Union of Professional Actors and Stage Managers.
Cast
Reed Martin*: Reed
Teddy Spencer*: Teddy
Austin Tichenor*: Austin
Creative team
Reed Martin, Co-Author and Co-Director
Austin Tichenor, Co-Author and Co-Director
Skipper Skeoch, Costume Design
Brittany Diliberto, Lighting Design
Brandon Roe, Sound Design
Elaine Randolph*, Production Stage Manager
Production team
Teresa Wood, Casting Assistant
Elizabeth Brodie, Sean Taber, Production Assistant
Cidney Forkpah, Wardrobe Head
James Neylon, Master Electrician
Amanda Kircher, Light Board Operator
Brandon Roe, Sound Engineer
Alli Bostedt, Tim Holtslag, Jennifer Rugyt, Props
Freya Marcelius, Puppets and Masks
Jane Martin, RSC General Manager
Alli Bostedt, RSC Company Manager
WiT Media, Advertising Agency
Teresa Wood, Production Photography
Daniel Coston, Playbill Cover Photography
Heather Daniels, Lee Fanning, Mark Fastoso, and APTV, Promotional Video
WAPAVA, Archival Video
C2, Open Captioning
Folger Theatre
Janet Alexander Griffin, Artistic Producer
Beth Emelson, Associate Artistic Producer
David Polk, General Manager
Charles Flye, Theatre Production Manager
Rebekah Sheffer, Assistant Technical Director
Katherine Pitt, Humanities Programs Assistant
Other media
Watch the trailer for this production of William Shakespeare's Long Lost First Play (abridged)."
Reviews
Image gallery