The Winter's Tale (2018)
Folger Theatre performed their production of The Winter's Tale, directed by Aaron Posner, from March 13 to April 22, 2018.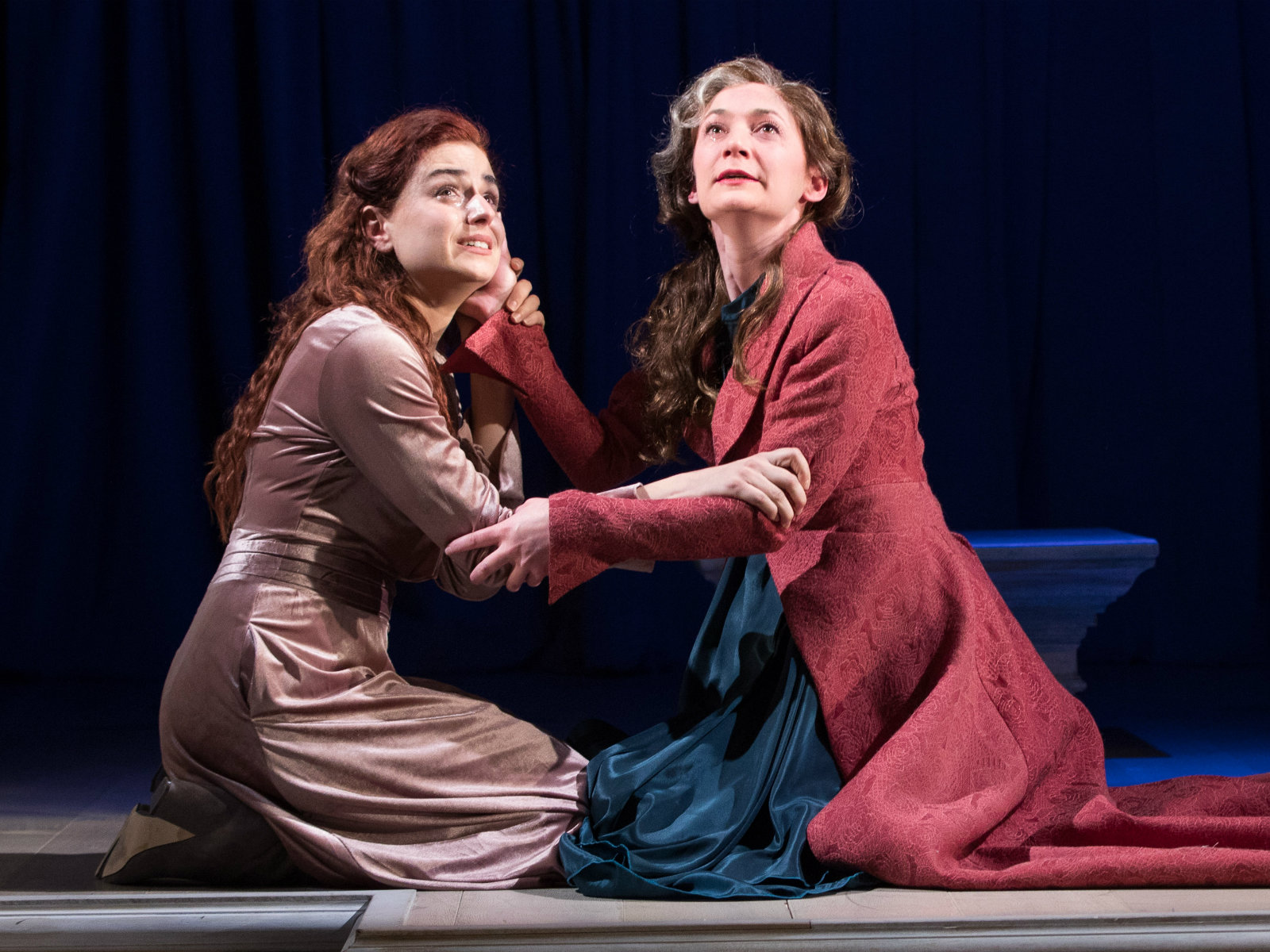 Transporting us from Sicilia to Bohemia and safely home once more, Shakespeare's spellbinding tale of jealousy, prophecy, and redemption celebrates the magic of story-telling and the power of forgiveness. Directed by Helen Hayes award winnner Aaron Posner.
Production
Entertainment unions represented in Folger Theatre productions include The Stage Directors and Choreographers Society (**), United Scenic Artists (***), and the Actors' Equity Association (*), which includes members of the Union of Professional Actors and Stage Managers.
Cast
Aldo Billingslea*: Polixenes
Katie deBuys*: Hermione
Drew Drake*: Florizell
Liz Filios*: Musician
Kimberly Gilbert*: Autolycus
Grace Gonglewski*: Paulina
Richard R. Henry*: Old Shepard
Eric Hisson*: Storyteller, Camillo
Emily Kaye Lynn: Musician
Daven Ralston*: Perdita
Joshua Thomas: Young Shepard, Musician
Michael Tisdale*: Leonites
Understudies
Melissa Graves: Hermione
Ty Hallmark: Paulina
Seamus Miller: Florizell, Young Shepard/Musician
Emily Kaye Lynn: Perdita, Autolycus
Keith Richards: Storyteller, Camillo, Old Shepard
Matthew Sparacino: Leonites, Polixenes
Creative team
Aaron Posner**: Director
Kelsey Hunt***: Costume Design
Jesse Belsky***: Lighting Design
Luciana Stecconi***: Scenic Designer
Patrick Calhoun***: Sound Design
Michele Osherow: Resident Dramaturg
Daryl Eisenberg: CSA, New York Casting
Julia Singer*: Production Stage Manager
Jessica Short*: Assistant Stage Manager
Production team
Teresa Wood: Casting Assistant
Susannah Eig: Assitant Director
Rachel Zampelli: Assistant Director
Christina Miller: Production Assistant
Tony Koehler: Props Master
Aaron Cromie: Puppet Designer
Bella Faccia: Inc., Scenic Construction
Cidney Forkpah: Wardrobe Head
Mariah Hale, Ansaldo Costumes, Adalia Tonneyck: Costume Construction
Alex Keen: Master Electrician
Kristen Roth: Assistant Master Electrician
Jon Farber and Sasha Pensanti: Assistants for Daryl Eisenberg Casting
WiT Media: Advertising Agency
Teresa Wood: Production Photography
Brittany Diliberto: Pre-Production Photography
Lee Fanning, Mark Fastoso, and APTV: Promotional Video
WAPAVA: Archival Video
C2: Open Captioning
Folger Theatre
Janet Alexander Griffin: Artistic Producer
Beth Emelson: Associate Artistic Producer
David Polk: General Manager
Charles Flye: Theatre Production Manager
Rebekah Sheffer: Assistant Technical Director
Grace Ann Roberts: Humanities Programs Assistant
Other media
Watch the trailer for this production of The Winter's Tale."
https://www.youtube.com/watch?v=LC8FGNsFK68
Reviews
Image gallery