Texts&beheadings/ElizabethR: Difference between revisions
Line 1:
Line 1:

[[Folger Theatre]] performed their production of texts&beheadings/ElizabethR from September 19 to October 4, 2015 in the Folger's [[Elizabethan Theatre]].

[[Folger Theatre]] performed their production of texts&beheadings/ElizabethRfrom September 19 to October 4, 2015 in the Folger's [[Elizabethan Theatre]].

 

 

 










== Production ==

== Production ==

Line 59:
Line 57:

* Teresa Wood, Casting Assistant

* Teresa Wood, Casting Assistant






== Other media ==

== ==










== Reviews  ==

/gallery

* [https://www.washingtonpost.com/entertainment/theater_dance/the-four-faces-of-queen-elizabeth/2015/09/29/020b7d3a-6526-11e5-bdb6-6861f4521205_story.html] 

* [http://www.washingtoncitypaper.com/arts/theater/article/13047224/textsbeheadingselizabethr-at-folger-theatre-reviewed] 

* [http://dctheatrescene.com/2015/09/28/folger-textsbeheadingselizabethr-review/]

* [http://mdtheatreguide.com/2015/09/theatre-review-textsandbeheadingselizabethr-at-folger-theatre/]

==Image gallery==
---
Revision as of 15:36, 20 July 2016
Folger Theatre performed their production of texts&beheadings/ElizabethR from September 19 to October 4, 2015 in the Folger's Elizabethan Theatre.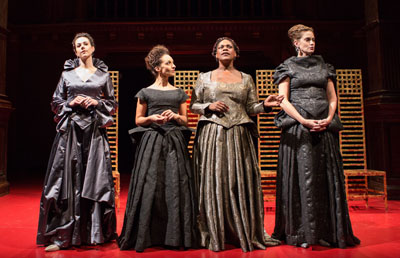 Production
Entertainment unions represented in Folger Theatre productions include The Stage Directors and Choreographers Society (**), United Scenic Artists (***), and the Actors' Equity Association (*), which includes members of the Union of Professional Actors and Stage Managers.
Cast
Monique Barbee*: Elizabeth
Ayeje Feamster*: Elizabeth
Juliana Francis-Kelly*: Elizabeth
Cristina Spina*: Elizabeth
Creative team
Karin Coonrod Creator and Director
Gina Leishman, Composer
John Conklin, Dramaturgy and Scenic Design
Oana Botez, Costume Design
Peter Ksander, Lighting Design
Adrian Silver, Movement
Jon Carter, Hair and Makeup Design
Michele Osherow, Resident Dramaturg
C.A. Clark*, Stage Manager
Alyce Dissette, Compagnia de' Colombari, Producer
Production team
Rebekah Sheffer, Assistant Technical Director
Katharine Pitt, Humanities Programs Director
Teresa Wood, Casting Assistant
Elizabeth Brodie, Production Assistant
Cidney Forkpah, Wardrobe Head
Brittany Shemuga, Assistant Lighting Designer
Erin Teachman, Master Electrician
Amanda Kircher, Light Board Operator
Teresa Wood, Production Photography
C2 Ink., Open Captioning
For Compagnia de' Colombari
Nick Ryckert, Production Manager
Gigi Buffington, Voice and Text
Lydia Gay, Costume Construction
Katherine Shelton, Assistant Stage Manager
Foger Theatre
Janet Alexander Griffin, Artistic Producer
Beth Emelson, Assistant Artistic Producer
David Polk, General Manager
Charles Flye, Theatre Production Manager
Rebekah Sheffer, Assistant Technical Director
Katherine Pitt, Programs Assistant
Teresa Wood, Casting Assistant
Reviews
Image gallery
TWood 234.jpg

Monique Barbee, Cristina Spina, and Ayeja Feamster, texts&beheadings/ElizabethR, directed by Karin Coonrod, Folger Theatre, 2015. Teresa Wood.