District Merchants
Folger Theatre performed their production of Aaron Posner's District Merchants from May 31 to July 3, 2016.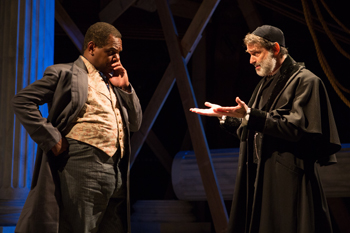 Production
Entertainment unions represented in Folger Theatre productions include The Stage Directors and Choreographers Society (**), United Scenic Artists (***), and the Actors' Equity Association (*), which includes members of the Union of Professional Actors and Stage Managers.
Cast
Matthew Boston*: Shylock
Maren Bush*: Portia
Akeem Davis*: Lancelot
Celeste Jones*: Nessa
Seth Rue*: Benjamin Bassanio
Dani Stoller*: Jessica
William Vaughan: Lorenzo
Craig Wallace: Antoine
Understudies
Jenna Berk: Jessica
Adante Carter*: Benjamin Bassanio/Lancelot
Ross Destiche: Lorenzo
Melissa Graces: Portia
Jeff Keogh: Shylock
Lilian Oben: Nessa
Jefferson Russell* : Antoine
Creative team
Aaron Posner, Playwright
Michael John Garces**, Director
Christylez Bacon, Music
Tony Cisek*, Scenic Design
Meghan Raham, Costume Design
Geoff Korf*, Lighting Design
James Bigbee Garver, Sound Design
Michele Osherow, Resident Dramaturg
Ayanna Thompson, Co-Dramaturg
Daryl Eisenberg, CSA, New York Casting
Roy A. Gross**, Production Stage Manager
Elisabeth Ribar**, Assistant Stage Manager
Production team
Rebekah Sheffer, Assistant Technical Director
Katharine Pitt, Humanities Programs Assistant
Teresa Wood, Casting Assistant
Lila Rachel Becker, Assistant Director
Elizabeth Brodie, Production Assistant
Tony Koehler, Props Master
Paige Hathaway, Assistant Scenic Designer
Bella Faccia, Inc., Scenic Construction
Anne Nesmith, Wig Designer
Cidney Forkpah, Wardrobe Head
Mariah Hale, Ansaldo Costumes, Adalia Tonneyck, Costume Construction
Kyle Soble, Assistant Lighting Designer
James Neylon, Master Electrician
Amanda Kircher, Assistant Master Electrician
Brandon Roe, Sound Associate
Jon Farber and Sasha Pensanti, Assistants for Daryl Eisenberg Casting
WiT Media, Advertising Agency
Teresa Wood, Production Photography
Brittany Diliberto, Pre-Production Photography
Lee Fanning, Mark Fastoso, and APTV, Promotional Video
WAPAVA, Archival Video
C2, Open Captioning
Folger Theatre
Janet Alexander Griffin, Artistic Producer
Beth Emelson, Assistant Artistic Producer
David Polk, General Manager
Charles Flye, Theatre Production Manager
Rebekah Sheffer, Assistant Technical Director
Katherine Pitt, Programs Assistant
Teresa Wood, Casting Assistant
Other media
Watch the trailer for this production of District Merchants."
Reviews
Image gallery